Introducing Garlic Presses: How to Choose the Right One
Garlic presses are a great kitchen tool for quickly and easily mincing garlic cloves. With a garlic press, you don't have to worry about peeling the cloves or chopping them finely by hand. Instead, you can just press the cloves and get perfectly minced garlic in seconds.
When choosing a garlic press, there are a few key factors to consider. You'll want to make sure that the press is made of sturdy material that won't rust, has an ergonomic design for easy use, and is easy to clean. Additionally, you'll want to consider the size of the press and whether you need one with multiple blades for a finer mince.
To learn more about garlic presses and how to choose the right one, check out this buying guide from Food & Wine.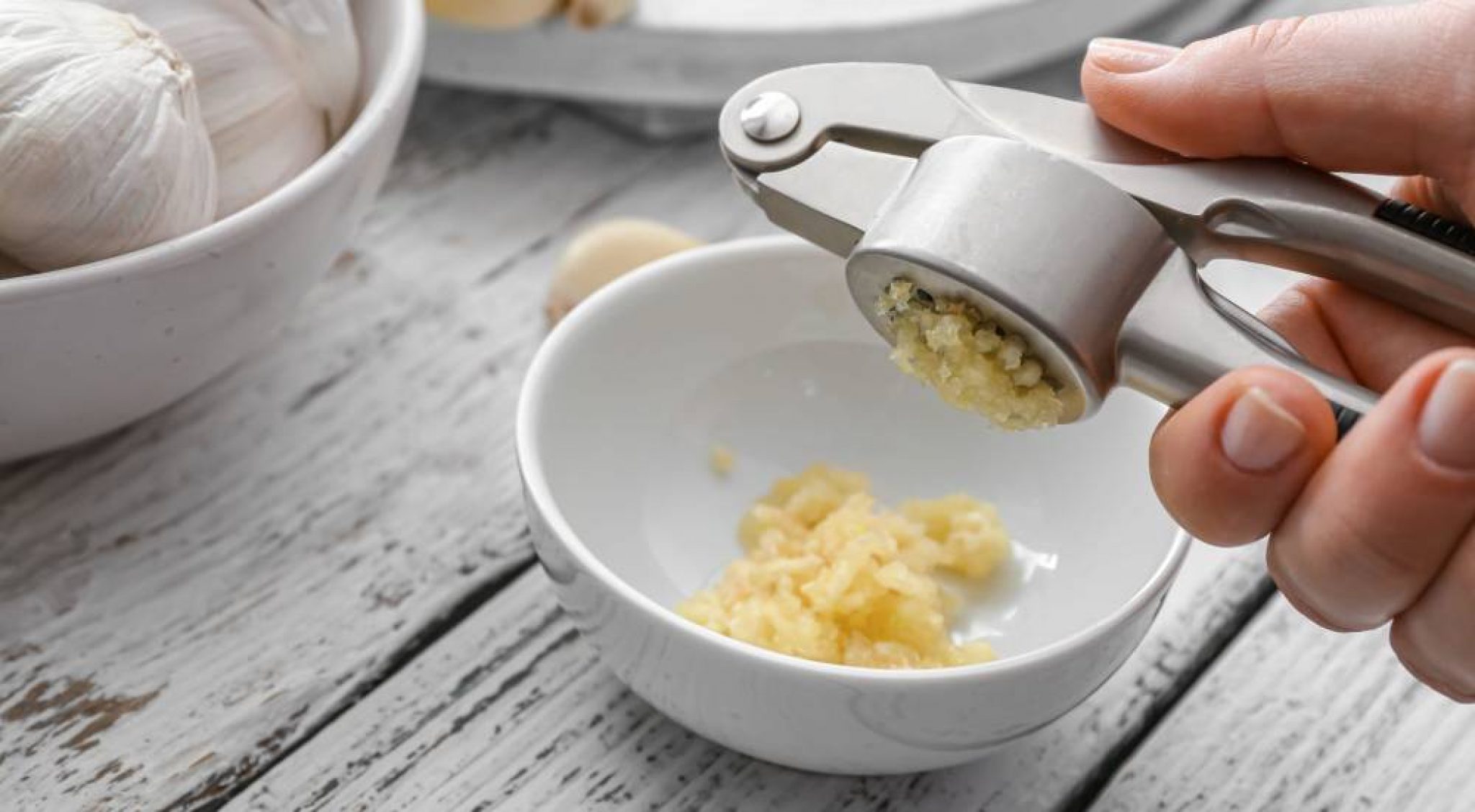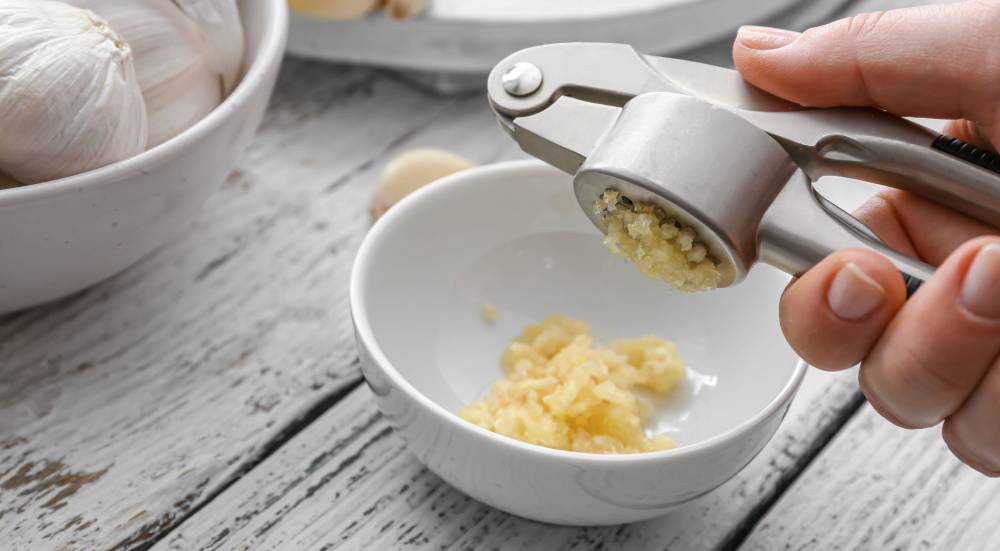 Garlic is one of the most valuable domestic superfoods. Garlic is considered a natural antibiotic, boosts immunity, protects blood vessels and heart. One raw clove of garlic is recommended to be eaten every day. Garlic is also a food you can't do without in the kitchen.
Garlic can be sliced or pressed. It is the crushing of garlic that is considered the better option for processing. During crushing, the amino acid alliin is converted into the substance allicin. This substance is very beneficial to health and can be found in many food supplements. By consuming allicin you can prevent a number of diseases.
Choosing a garlic press is not difficult, you can buy this gadget in many places. In most cases, presses with handles are available, but these types are not the only ones you will be able to buy. Garlic presses are made of different materials and their quality in this case is also influenced not only by the purchase price, but above all by the quality of the manufacturer.
Types
Garlic press is a gadget that needs no special introduction. The classic lever presses, which can be bought in many versions, are mainly found in households. However, garlic can also be pressed with other variants of presses.
Garlic press with handle
The best known presses use a lever mechanism for pressing. You simply insert a clove of garlic into the press and press it out by squeezing the handle. Handle presses come in many forms, varying in the size of the garlic container and the handle itself. Simple presses have a smaller garlic chamber and usually an all-metal handle. More expensive presses have handles that are modified in various ways to make using the press as safe and comfortable as possible. The pressing part is also different. Cheaper presses usually have a smooth part and you should buy a special press cleaner together with the press. More expensive presses have a pressing part with spikes that take care of the pressing and cleaning at the same time.
Garlic press
The other way to crush garlic is to use a garlic rub. This variant of the press is represented on the market in much smaller quantities, but can be very interesting for many. A garlic crusher is like a cradle press, which you press on and crush the garlic by cradling it from side to side. You will need a cutting board or mat to place the garlic cloves on and then crush them on. Use a spoon or other tool to wipe the garlic off the press.
Garlic chopper
You can also process garlic with a garlic chopper. This is a multi-purpose tool that you can also use when processing other vegetables. You can buy a chopper made of stainless steel or glass. These are two small containers fitted with cross-cutting blades. You put one or more garlic cloves in the lower container, cover the other part and crush the garlic in a circular motion. Process ginger, chillies and other ingredients in a similar way.
Material
The garlic crusher is made of different materials. Most tools are made of stainless steel. However, plastic, aluminum, glass or a combination of different materials are also used to make the press. Most commonly, stainless steel is combined with plastic or silicone.
Stainless steel
Stainless steel presses are the most popular ever and are used to make all variations of garlic presses. Stainless steel has the advantage of being safe for human health, but stainless steel is a material that will not degrade the garlic itself. Stainless steel also has the advantage of high durability, long service life and easy maintenance.
Aluminum
It is used to make cheaper presses, in this case the selection is already significantly lower and you will not come across leading manufacturers when choosing an aluminium press, which in itself speaks of lower quality materials. Nevertheless, many families make do with an aluminium press. Also, these presses are made of non-hazardous material, but their disadvantage is more demanding maintenance. The aluminium press does not belong in the dishwasher.
Plastic
You can't buy a celloplastic press, at least the part that the garlic is extruded through is made of stainless steel. However, the whole structure of the press can be made of high quality plastic. Plastic is generally considered to be an inferior material, but you can buy a plastic garlic press from leading manufacturers. The price of the press is comparable to a stainless steel press and so is the quality.
Other variants
A garlic press is not the only tool you can use when preparing garlic. You can also process this food with graters, grinders, choppers or peelers.
Grater – graters are also a very popular utensil. Not only classic graters, which you can use instead of a press, but also slicing graters are available. With these you can quickly cut garlic into equally thick slices.
Grinder – Grind larger quantities of garlic using a conventional grinder. Small graters are also available in small quantities, which are suitable for grinding several cloves.
Chopper – Chisels are quite popular helpers. You can use them when chopping garlic, onions and other ingredients. The hand choppers include durable stainless steel blades, which chop each raw material into differently sized pieces very quickly.
Peeler – Peeling garlic can be tricky, especially if you process large quantities of cloves. Peelers make this job easier.
Brand
You can buy garlic presses from some of the leading manufacturers who are engaged in manufacturing kitchen utensils and appliances. Our most popular brands of presses are Orion, Tescoma, Leifheit, Tefal, Kuchenprofi, Westmark or Fiskars.
Questions and Answers
How to press garlic?
There is nothing complicated about pressing garlic, you put the cleaned clove into the press and squeeze the handle. That's it. However, it is much more complicated to clean the press. However, there is a procedure to ensure that even after pressing, the small holes of the press remain clean and you save yourself the complicated cleaning.
It is sufficient to take off only the dry loose skins, leaving the clove with the last thicker skin. Then trim both ends and place the garlic in the press. When the press is pressed, the garlic is pressed out classically. After pressing, only the dry skin remains in the press without any residue.
What to watch out for when preparing garlic?
Although you can purchase a large number of tools to make working with garlic easier, not every tool needs to be completely waterproof. It is not recommended to grate garlic and you should not use a metal knife to cut it. Contact with iron will promote oxidation of various vitamins, most notably vitamin C.
It is recommended to use a ceramic, stainless steel or anti-adhesive grater or knife to cut garlic. However, instead of slicing or grating, it is recommended to crush the garlic and then process it as quickly as possible. Garlic oxidises quite quickly in the air and loses some of its valuable substances.
Can garlic cause harm?
Garlic is a highly sought after superfood that is packed with vitamins. Consuming garlic in reasonable quantities will not put your health at risk. However, you should be careful when cooking it. It is important to make sure that the garlic does not turn brown.
Overcooked garlic will not only turn bitter, but will also start to form acrylamide. This substance is carcinogenic, adversely affects the nervous system and is also harmful to the digestive system. Acrylamide is particularly dangerous for pregnant women, where it can cause various serious developmental defects in the foetus.
Conclusion
Garlic contains more than 400 substances that benefit human health. However, if garlic is processed incorrectly, many of these substances can be rendered useless. The press crushes garlic and crushing is considered a very gentle way of processing garlic. For this reason, a garlic press should be present in every household. The purchase price of a press is not very high and a good quality press will serve you in the kitchen for many years.
How to choose a garlic press?
When choosing a garlic press, consider the size, material, and ease of use. Look for presses that are large enough for the garlic cloves you plan to use, made of durable materials such as stainless steel, and are easy to clean and use.
Advantages of Garlic Presses
Easier to use than a knife
Faster than chopping with a knife
No need to peel garlic cloves
Makes garlic pieces uniform in size
Creates more intense garlic flavor
If you're looking to add flavor to your cooking, garlic presses are a must-have kitchen tool. Whether you're a novice or a seasoned chef, garlic presses make it easy to mince and press garlic cloves in a matter of seconds. But with so many options out there, how do you choose the right one? Here are a few tips to help you find the perfect garlic press for your needs:
1. Consider the size of the garlic press. If you're only using it for small amounts of garlic, a smaller press may be the way to go. But if you're cooking for a large family or entertaining guests, a larger press may be more practical.
2. Look for a press that is easy to clean. The last thing you want is to spend extra time scrubbing garlic residue off your press. Look for a press that is dishwasher-safe or easy to disassemble and clean.
3. Choose a press that is comfortable to use. The handle should be ergonomically designed and fit comfortably in your hand. This will help you get the most out of your garlic press.
Choose the right garlic press, and you'll be able to add delicious flavor to all your favorite dishes. So what are you waiting for? Start shopping for your perfect garlic press today!