How to Arrange a Small Kitchen: The Best Guide to Kitchens – DOMA DOMA
Are you looking for the best advice on how to arrange a small kitchen? Look no further than DOMA DOMA! This comprehensive guide will provide you with the tips and tricks you need to make the most of your small kitchen space. From organizing cabinets and drawers to choosing the right appliances and fixtures.
The kitchen is the heart of the home.
Whether it's where you "just" cook, where you meet your family for dinner, your gourmet kingdom where you turn into a Ratatouille mouse, or your outside office where you spend your nights finishing projects for work, it should always reflect your world.
Good advice

Take your time when furnishing your kitchen. A lot of time. It's the room that sets the style of the whole home, so don't be tempted by the first trends, get a paper and pen and go over with us all the points you need to have mastered before you get down to the actual furnishing.
How to furnish a kitchen you'll love?
Do a little research before you start the actual furnishing.
How much time do you spend in the kitchen?
If you use your kitchen for everyday cooking, you need your kitchen to have a large worktop, good light, a large fridge and plenty of storage space. If it's "only" your weekend kingdom, make room in it for breakfast for the whole family.
If you have enough space, you can extend your workspace with a handy kitchen island.
Do you eat in the kitchen?
You need a table, chairs, or a bar with seating. If you prefer to enjoy your meals in the living room, so what. For festive moments or Sunday lunches, you can mount a folding table on the wall. It will probably surprise you, but it really doesn't look bad.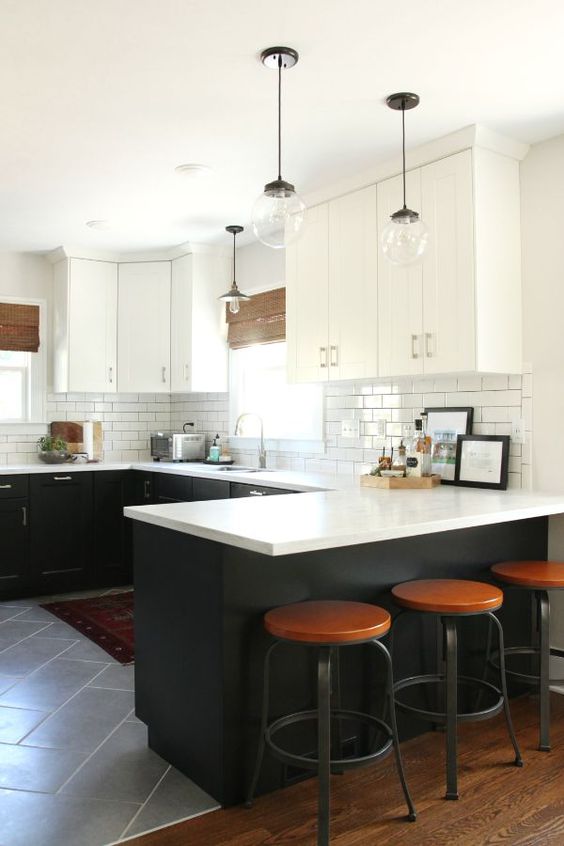 Budget and price of a new kitchen
The price of a kitchen consists of two budgets – one for the furniture, the main body, and another for the appliances.
Both are an investment for a long time, so don't settle for cheap low-quality materials, rather furnish it gradually (line + sink, continue with the stove, top up the oven and then the lighting).
How to arrange a small kitchen with great expectations
Even small kitchens can be functional and practical, and you can come up with big things in them. It might not fit a dining table for 6 or an American fridge, but if you choose multifunctional elements and premium materials, you won't be limited in any way.
Go for quality materials
A thick solid wood worktop is a better investment than cheap chipboard worktops with a finish.
A kitchen sink (stainless steel or ceramic) with a quality faucet from a kitchen studio has easier maintenance in addition to a higher price compared to cheaper chain stores, and the same is true when choosing appliances.
Branded models often come with extended warranties and have lower power consumption at higher outputs.
Don't skimp where it doesn't pay.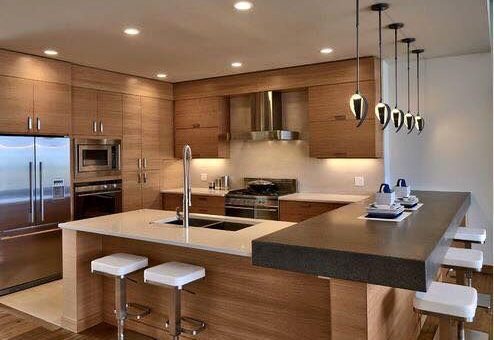 Choose timeless elements
The base of the kitchen should be timeless, relatively neutral. Choose one of the living styles you like when furnishing and stick to it across the whole kitchen. If you like Provençal kitchens, love vintage, retro or, on the contrary, Nordic minimalism runs in your blood, don't succumb to current trends and furnish your kitchen in a way that you'll still like it 5 years from now.
Natural materials and lighter colours should form the basic skeleton. Your style will then be felt from the kitchen cabinet doors, handles, accessories and decorations, which can be quickly replaced without the need for a large investment. White kitchens based on the Provençal style are also timeless.
Keep it safe and clean
In the kitchen, you eat and prepare food for your loved ones. It must therefore be easy to clean, fresh and airy.
You don't just have to protect the kitchen screen behind the worktop with tiling, choose a mosaic or glass, for example, which is easy to wipe down, even if carrots or beetroot drift in. You can't get it off wallpaper that easily, even waterproof wallpaper.
You can choose from a variety of hoods. The hood can be a chimney hood (connected to a waste shaft) or a carbon filter if you don't have that option. Modern kitchen hoods no longer have to be placed above the cooker, but are built right into the worktop.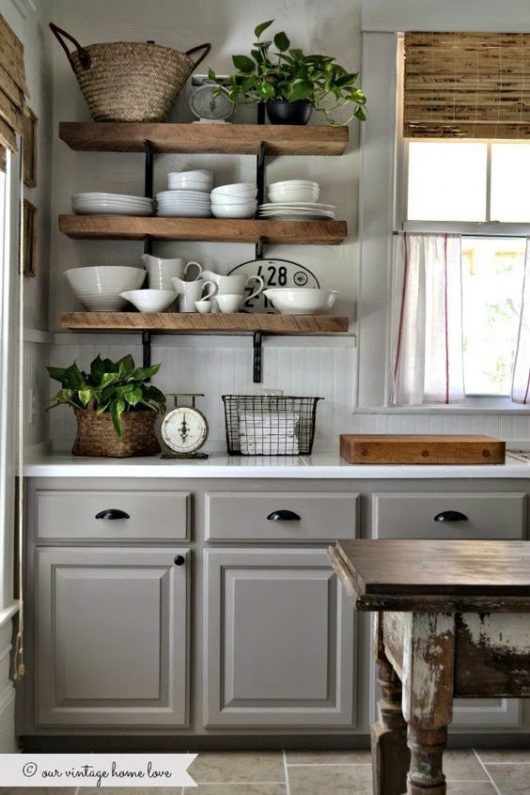 How to furnish a kitchen. Even the prefabricated one
Prefab kitchens don't leave much to the imagination. A typed, kitchenette, a fridge, a table and two chairs, and you're often glad you can fit a dog bowl under the table at all.
But even in a small space, you can conjure up your culinary kingdom. With the right layout, even without an interior designer.
Lay out your space
Prefab kitchens are usually narrow, with a door at one end and a window at the other. Divide the room into zones – this is where the cooking will take place (kitchen + stove), here will be the storage space (fridge + food cupboard) and there will be a community center (dining area).
If you can't fit a table and chairs in your kitchen, try extending the kitchen countertop (also L-shaped) and supplement it with two chairs.
Don't skimp on storage space
There's a difference between storage space and storage space. Storage is where you put your appliances, dishes, or canned goods, while pantry is on the kitchen counter, the one that should be empty and only used when you're preparing meals.
You need a place next to the sink for slicing, next to the stove for putting pots away.
Find out what you don't need
You can easily replace your microwave with an electric oven, and you can make smoothies without a smoothie maker, with the help of an immersion blender. These are details, but in a small kitchen every inch counts.
Sufficient countertop lighting is also very important. Tawdry neon baseboards have been replaced by fancy LED strips that light up the space while saving electricity.
Where to look for inspiration?

A great source is Pinterest, for example, where you can find photos of kitchen designs in almost every style, and you can also get kitchen inspiration from IKEA-style catalogues or kitchen studio websites.
Kitchen floors and tiles
The kitchen is one of the most tried and tested rooms in the interior. Therefore, choose kitchen flooring that can withstand high loads. Spilled milk, hot or warm, must be well tolerated by the floor. Choose kitchen tiles in a similar vein. Look for high quality, non-absorbent materials that are easy to clean and resist cooking fumes or oil stains.
A kitchen connected to the living room? No problem
A kitchen connected to the living room offers a lot of scope for realisation, but also a few woes. How to reconcile these two rooms so that the living room does not feel sterile and at the same time cozy?
How to arrange the kitchen in a unified style? The answer is kitchen accessories
Choose related materials, don't resist matching tone on tone. Trends change, but some things stay.
A few years ago, kitchens started to merge with living rooms, and furniture stores and kitchen studios have adapted. Today you can get a counter, bar and living room bookcase all in one series, so furnishing is easier than ever. Still, keep in mind that the two rooms shouldn't feel like a single unit.
A seamless transition
There are different requirements for the floor in the kitchen and different in the living room. For example, you can place a piece of carpet in the living area for comfort, visually separate the two rooms with a sofa (with redesigned back) and direct the TV so you can watch it while you prepare dinner.
Details matter
Details are what turn a house into a home. Match the colour of a kitchen potholder to the sofa cover, accessorise a room with houseplants, holiday photos, a vase of flowers or a vase of biscuits.
Glass jars for flour, sugar or small pastries also look great, so you can keep them on the kitchen counter at hand and your kitchen will breathe life. After all, everyone knows it's cooking, so why hide it.
You have endless options when it comes to kitchen accessories, but think everything in moderation.
Don't forget
Stove farthest from the fridge – it's logical, but many people forget this detail. If you want your fridge to last as long as possible and have low energy consumption, place it in the coolest part of the room, away from the radiator, window and cooker.
Suitable substrate – Durable tiles are suitable for kitchens, several types of laminate flooring nowadays meet this, anything that can handle moisture and is easy to keep clean. Practical vinyl flooring is also becoming a big hit.
Thorough ventilation – If you have a kitchen connected to the living room, a cooker hood is a must. Not only when cooking Christmas cabbage soup.
Already know how to arrange your kitchen? Are you inspired?
Now take that prepared paper and pen and draw. Sketch out the perfect kitchen to fit yours and get to work.
How to Arrange a Small Kitchen
Maximize your storage space with multi-level shelving, storage containers, and wall-mounted racks.
Choose kitchen appliances that are small and energy efficient.
Select light colors for the walls, floor, and cabinets to create a sense of openness.
Utilize the vertical space in your kitchen by hanging shelves, racks, and other items.
Choose smaller furniture such as bar stools and a small kitchen table.
Install a rolling island to provide extra counter space.
Make use of the corners of your kitchen with corner cabinets and shelves.
Add bright lighting to make the kitchen appear larger.
Are you looking for the best guide to arranging a small kitchen? Our comprehensive guide will help you make the most of your small kitchen space and create the perfect layout for your needs. Get started today and make your kitchen dreams a reality. Click here to get started!