How to Choose a Children's Kitchen: Get the Basics Right
Choosing the right kitchen for your child can be a daunting task. With so many options available, it can be difficult to know where to start. From size and design to safety and cost, this guide provides all the information you need to make an informed choice. Don't forget to check out our children's kitchen selection for the perfect kitchen for your little chef.
"As a kid, I used to love messing around in the kitchen while my mom baked. So when I was 15 and deciding what to do next, baking was the obvious choice."
Do you still remember this advertising slogan? Even though it was an ad for coffee, it has a ring of truth to it – kids really like to mess around in the kitchen. Kitchen is for most young children a place full of mystery and magic – things light up, things make different sounds, food starts to smell. However, it is a bit more dangerous environment and there is a risk of burns or scalding. That's why a children's kitchen is a great choice for safe fun.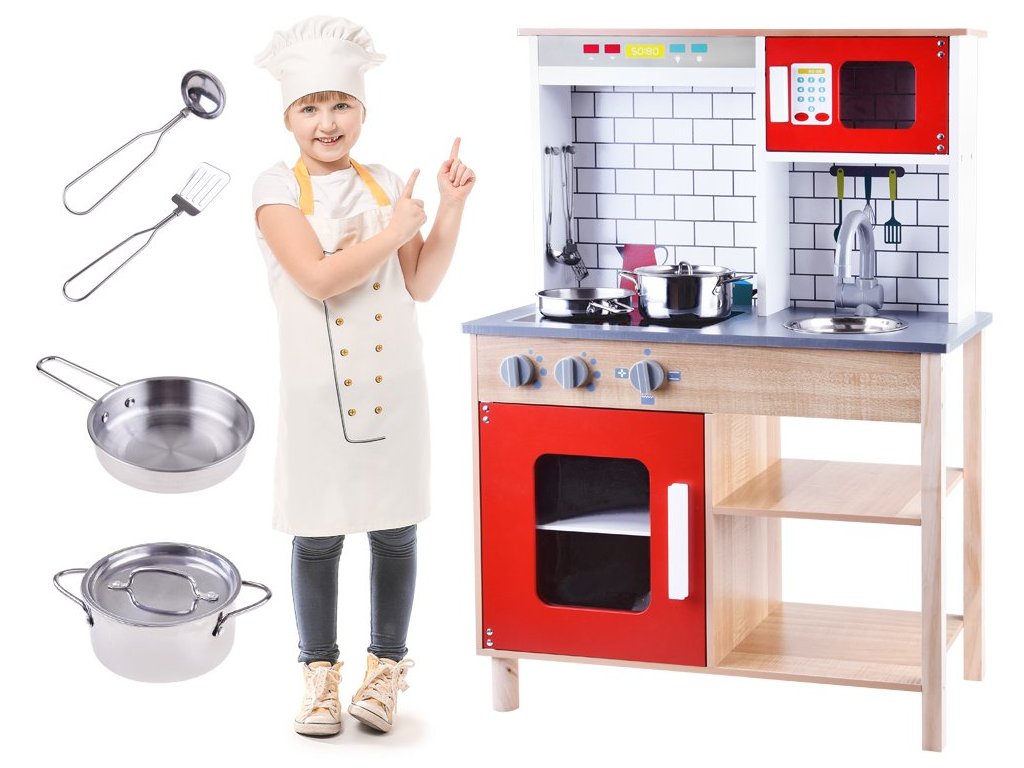 You don't have to worry about choosing a children's kitchen anymore. We will advise you in the article.
Content:
1. What to think about when choosing a children's kitchen
– The age and gender of the child
– Kitchenette size
– Realistic behaviour and appearance
– Accessories and other kitchen equipment
– Kitchenette material and quality
– Price
– Other special features
2. Support your child's interests
As soon as you give the child a cooker and a bowl with some flour, he will have fun at "work" along with you. Making your own food is just a wonderful game and fun. And in time, who knows, he'll actually help you with the cooking.
To make cooking really safe fun for kids, and especially for little girls, we suggest buying children's kitchen. The offer on the market is really wide. How to make the right decision and choose well? We will advise you.
What to think about when choosing a children's kitchen
Age and gender of the child
Already children from 2 years of age will have fun with Children's Kitchen. And they'll play nicely until they're 10 years old. The younger the kids are, the better to pick them out. Simple model s bright colors. Small separate parts are easily dispensable here. Remember that small children put everything in their mouths and risk swallowing some small part of the kitchen equipment.
Older children will appreciate a kitchen that is more like mom's – different appliances, accessories like dishes or food, a lighted oven or a whirring microwave. The more realistic the kitchen, the better.
Kitchens are traditionally a girl's toy. However, boys also like to cook. Therefore, take this into consideration when choosing a color. Neutral colours suit everyone, however, boys would probably enjoy a pink kitchen they didn't win much.
Kitchenette size
It is important to make Kitchen not only to fit in a child's room, but also to allow the child to play with it. So it's not enough to know that you have enough space next to the cot to put it up. Allow some half a meter for the space in which your little cook or chef will stand and cook.
It's good to know that not every Kitchen is designed to be attached to the wall. There are kitchenettes that are double-sided, which requires an extra piece of space.
What to do when there's not enough space, and yet you would Kitchen to your child? It is offered to buy at least food for the children's kitchen and artificial utensils. Children can then create a kitchen from any piece of furniture, and you can also transport such equipment, for example on holiday.
A big role in the choice of a kitchen is certainly played by the height of the child. If you're not quite sure how tall to get a kitchen, opt for a lower option instead. The main reason is safety. This is because if your child can't reach everywhere they want to, they might climb on the larger kitchen and risk falling and getting hurt.
For the youngest children around 2 to 3 years old, they should have Kitchenettes a worktop about 40 to 45 cm high. For older children, the height of the worktop is calculated from 45 to 55 cm in proportion to the height of the child. The depth of the kitchen is not entirely decisive. It commonly ranges from 30 to 50 cm and the widths are the most variable – from 30 to perhaps 150 cm. Width kitchens of course, you do not have to adjust the age and size of the child. But as in a real kitchen – the more storage and working space, the better.
Realistic behaviour and appearance
Children will eventually begin to require direct realistic kitchens – The oven should have a light on, the lights should also indicate the various appliances on. A very nice effect is the "hot" hob of the cooker thanks to the red light.
Sound effects are also important. Does your microwave ding when it's done heating? In a kid's kitchen, it should, too. But you can also have the sounds of sizzling oil, bubbling boiling water or running water in kitchenettes.
And speaking of sounds of running water, there are models in which the water actually flows from the tap into the sink.
Accessories and other kitchen equipment
What would be Kitchen without dishes and other accessories? Of course, with the kitchens you also get kitchen equipment – pots, pans, utensils and imitation food and ingredients.
But be warned – it's really like actually buying cookware. You will read from the manufacturer that it is 3 pieces and inside you will find a pot, a removable handle and a lid. So you actually have one pot. So if you read on the children's kitchen that it contains 16 other pieces of accessories, then don't be disappointed when you unpack the box.
Accessories can be purchased additionally, but it is usually more economical to buy a more expensive model of kitchen, but already with full equipment, than to "save" by buying a cheap model, but buying accessories separately.
The material and quality of the kitchen
Plastic kitchenettes are by far the most widespread. And no wonder – the production is easier, high fidelity to the original can be achieved, and even the most minute details are easy to achieve. On the other hand, they usually don't have such a high resistance to rough handling and are more easily knocked over and broken.
The traditional material is wood. Retrieved from wooden kitchens are reliable, sturdy and long-lasting. They are usually handed down through generations. However, you also usually have to spare the small details and interactive elements.
What are the main pros and cons of plastic and wooden kitchens?
plastic kitchenettes
+
low price
+
stable
+
many accessories
+
natural material
+
washable
+
realistic appearance
/
–
less stable
–
Price
–
non-ecological
–
fewer accessories
Price
Price, of course, determines a lot. But don't worry – cheapest kitchenettes you can get for literally hundreds of dollars. But of course it will be a simple plastic toy for really the smallest children with low demands.
The most expensive kitchens can be had for around 10,000 CZK, but you will get a realistic, fully equipped kitchen with many accessories and interactive elements.
The most common purchases are between 1000 and 5000 CZK. The price is mainly influenced by the material and various built-in effects.
Other special features
Many kitchens will also offer various special features that make the kitchen feel like a real kitchen. You can find kitchens that
have sound effects – you can hear the oil sizzling in the pan or the boiling water bubbling
lights and flashes – such kitchenettes light up the LEDs by the stove or the oven
s flowing water – you can connect the kitchen to a water source and work with water as in a regular kitchen
Support the interests of the child
Every game is real for a child. If he's playing astronaut right now, you can bet he's in a rocket or on the moon. If he's playing doctor, he's really operating on you and saving your life. And as a chef, he's making you something really good to eat.
Encourage his interest in cooking just with a children's kitchen. And since it will be real cooking for him, he won't mess up your kitchen so much. And you can cook together.
Kitchen is an excellent tool for learning the basics of hygiene and maintaining order in the workplace. The child will find out what all needs to be done before the food is brought to the table – prepare the ingredients, process them, schedule their time and also do the cleaning up after themselves.
Cooking also develops coordination, orientation and fine motor skills, which are desirable skills. In addition, let's not forget the social side of things, where children learn to do things for others and converse in society.
Purchase children's kitchenettes is simply an investment in your child's future that is sure to pay off.
How to choose a children's kitchen?
When choosing a children's kitchen, it's important to consider the age of the child, the size of the kitchen, the materials used, and the safety features. You should also make sure it is easy to assemble and clean.
Advantages of a Children's Kitchen:
• Encourages imaginative play and creativity
• Teaches children about nutrition and cooking
• Enhances motor skills and hand-eye coordination
• Promotes social interaction and cooperation
• Provides a safe environment for children to explore and experiment
• Enhances language skills as children name and describe food items
• Makes learning fun and enjoyable
If you're looking for the perfect kitchen for your child, look no further. We offer a wide selection of children's kitchens that are sure to fit any budget and style. With our expert advice, you can be sure to find the perfect kitchen for your little one.