Introduction to Pasta Machines and How to Choose One
Pasta machines are a great way to make fresh, homemade pasta quickly and easily. With a pasta machine, you can roll and cut pasta dough to the desired thickness and shape for delicious pasta dishes. When choosing a pasta machine, it is important to consider the size, materials, and features that best suit your needs.
For more information on pasta machines and how to choose one, check out Foodal's Guide to Choosing a Pasta Machine.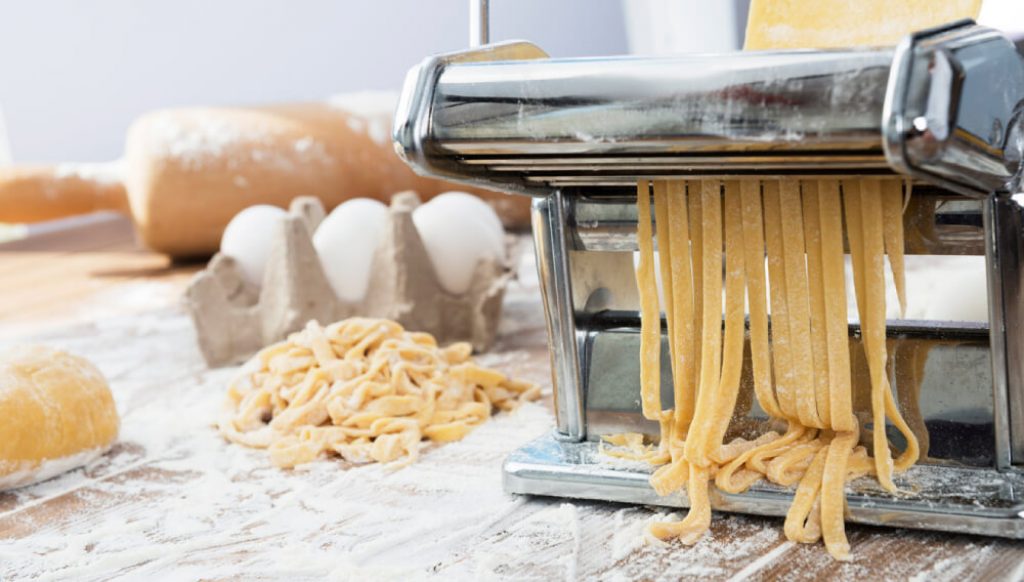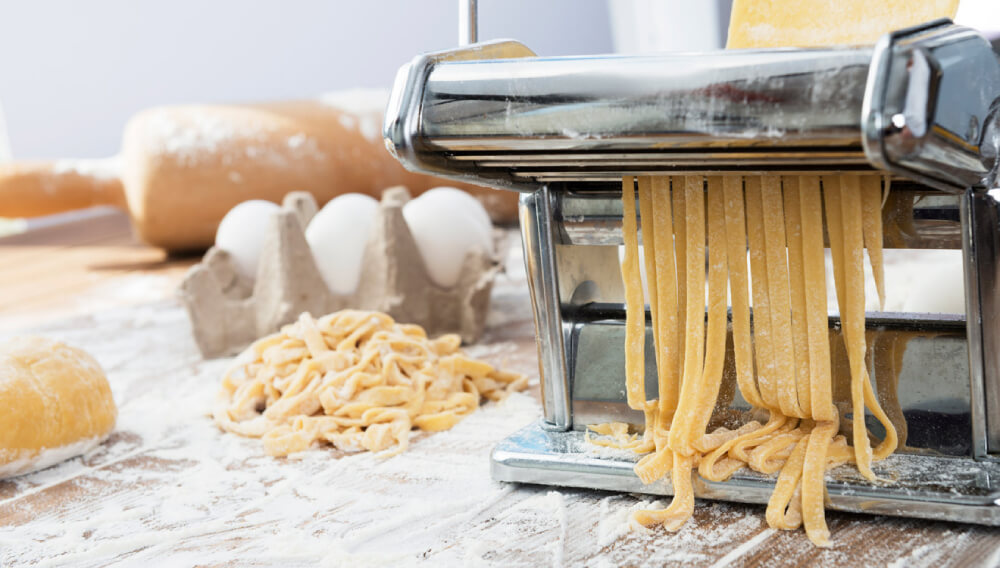 To make homemade pasta you only need four ingredients – flour, salt, eggs and olive oil. Then you just need to process the dough perfectly. For the pasta to be really tasty, the dough needs to hold its shape firmly, but not too stiff.
You can make pasta with fresh dough, but you're better off working with dough that has rested in the fridge at least overnight. Cut the finished dough into smaller pieces. The procedure may vary considerably.
The first option is to roll out the dough on a floured rolling pin using a conventional rolling pin. Such preparation is lengthy and it is difficult to roll out the dough evenly to the same thickness.
The second option is to prepare the pasta using a special machine designed specifically for preparing homemade pasta. The machine can be used to prepare tagliatelle, ravioli, lasagna and more.
Best pasta machines
This ranking represents the best-selling products with the highest ratings from customers.
Type
Pasta rack takes the place of a rolling pin when making pasta. This machine works on the principle of two rollers, between which you insert just a piece of dough. After the dough has been pulled through the machine several times to the desired thickness.
You can then use one of the cutting attachments to make the pasta in the desired shape. These machines are available in two variations. The classics are the simple manual machines and for faster preparation you can reach for an electric machine.
Handheld machines
Hand-held machines are useful for occasional pasta preparation, especially because of the physical effort involved in preparation. They can be purchased in a basic version or with several attachments for different types of pasta. The advantage here is the lower purchase price.
Electric machines
Electric machines are more suitable for more frequent pasta preparation. Preparation is easier and faster. With electric machines, attention should be paid to the power.
The higher the power, the faster the preparation. Some electric machines can even process the dough. You simply pour the required amount of ingredients inside and the machine prepares everything by itself using the selected attachment.
Material
Pasta machines are usually made of hard and durable plastic, steel or stainless steel. For the machine to last for some time, it should be made of good quality and durable materials.
Thus, for these machines, prefer products made of steel, especially in the case of manual machines. Products from quality manufacturers are overwhelmingly made of stainless steel, or a combination of stainless steel and plastic.
Stability and control
In the case of manual machines, one must also think about the attachment itself. A certain amount of force must be exerted when working and it is therefore necessary that the machine does not move on the work surface.
Conventional manual machines are attached to the work surface in the same way as other manual machines, by means of a massive screw or vice. In most cases, electric machines are equipped with rubber washers or a steel clamp
Handheld machines are equipped with a crank, everything is so simple and completely in your control. Electric hand-held machines are operated by buttons or wheels. The more expensive types are also equipped with an LCD display.
Pasta attachments
Pasta machines usually come with several attachments that allow you to make different types of pasta.
The cheapest machines can only handle rolling out the dough in various adjustable widths. In case you want a handheld machine that allows you to change attachments, look at the possible accessories that can be purchased for the machines for each brand.
More expensive handheld razors then have various attachments right in the package. There is usually an attachment for Tagliolini, Fettuccine, spaghetti and soup noodles. Then there are Reginette, which are wide decorative noodles, and Ravioli, or stuffed pouches.
Brand
A large selection of pasta machines is offered by the Italian brand Imperia. This brand offers high quality products that are made of steel and stainless steel in both manual and electric versions.
Many different pasta machines are also offered by De Gusto. Other manufacturers include Tescoma, Orion, Klarstein, Imperia, Banquet and Laica.
Maintenance
Maintenance is a bit more complicated in this case and you should follow the manufacturer's recommended procedure for each product.
Some machines cannot be disassembled and can be cleaned using the brush that is usually included with these machines. Other machines can only be cleaned with a dry, sometimes damp cloth.
Still others can be disassembled and the individual parts washed under running water, and finally you may come across products where some parts can be put in the dishwasher. After prolonged use the rollers may become stiff, in which case a light anointing with oil is sufficient.
Questions and answers
Why is it not possible to wash the machine with water?
Pasta machines most often only need to be wiped with a dry cloth or a brush. If you wash the machine in water, the steel parts could oxidize.
Conclusion
With the help of a pasta machine, you can make homemade pasta whose taste far surpasses the products that are commonly available in supermarkets.
You can make pasta from a variety of flours or in a gluten-free version. Homemade pasta takes some time to prepare, but the reward, apart from the taste, can be a lower price.
If you opt for a manual machine, price shouldn't be the only thing you look at when choosing one. The cheapest machines usually don't have spare attachments and cutting spaghetti or noodles, for example, is very time-consuming and may ultimately put you off making homemade pasta.
If you want to make pasta on a regular basis, choose machines that already have some attachments, or at least a brand that allows you to purchase additional attachments.
In the case of an electric machine, not only do you have spare attachments, if you want to leave all the work to the machine, choose a type that can also prepare the dough.
How to choose a Pasta Machine?
When selecting a pasta machine, consider the size, material, and features that best suit your needs. Look for a machine that is easy to use and clean. Consider the types of pasta you plan to make and make sure the machine can accommodate them. Check for attachments or accessories that may be included, such as a cutting tool or ravioli maker.
Advantages of Using a Pasta Machine
Allows for consistent and even thickness of pasta
Can produce a variety of shapes
Saves time and energy compared to hand rolling
Easier to clean than hand rolling
Can produce large quantities of pasta
If you're looking for a pasta machine to make your favorite Italian dishes, you've come to the right place! With a variety of pasta machines available, it can be difficult to choose the right one for your needs. To make sure you get the most out of your purchase, consider factors like your budget, the type of pasta you want to make, and the features you need. With the right pasta machine, you can whip up delicious meals for your family and friends in no time! So, don't wait any longer – make the perfect pasta today!